【Dinner】AWOMB's "Teori aesushi"
Meals in the room
【Dinner】AWOMB's "Teori aesushi"
You can enjoy "Teori-aesushi and soup" from the popular restaurant AWOMB in your room.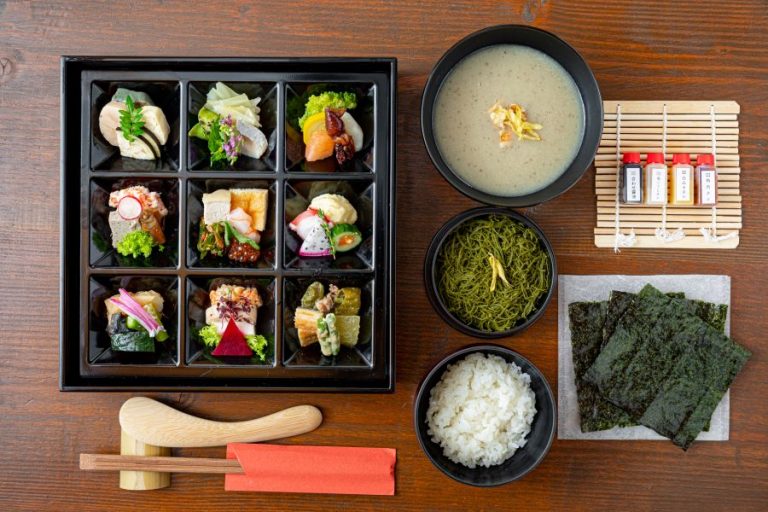 It is a good set with soup that you can enjoy "Teori sushi" and "Teae sushi" at the same time.
Please enjoy obanzai with a slightly warm sushi rice. Use seaweed to make hand-rolled sushi, and use matcha kinshi tamago which is egg sliced thinly to chirashizushi …
You can place an order regardless of the number of guests or the number of days you stay.
Order       :Please select a Japanese dinner order when you make a reservation.
          Can be ordered separately. (Please order 4 business days in advance)
Price      :1 set 5300 JPY (tax included)
Payment     :Credit card payment
Delivery     :17:30~18:00. We will deliver and serve to your room.
If you would like a different time, please let us know 3 days in advance. (12:00~18:00)
Cancellation fee :Cancellation fees(100%) applied from 2 days prior.
         ※In the case of a plan with meals, the cancellation policy of the plan has priority.
Not available between the following period.
26 Dec ~ 4 Jan (New Year holidays)
Please order by 24 Dec if you ordering for 5-7 January.
You may not be able to place an order at an event.
※The contents of the dishes change depending on the season.
※Sorry, we cannot handle allergies.
info@kyomachiya-isuke.com